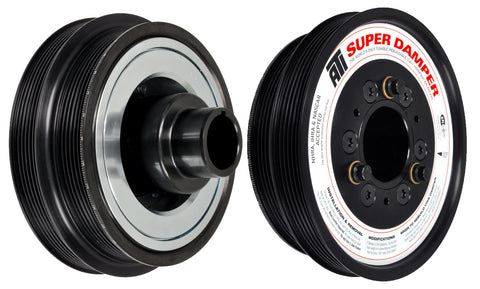 ATI Super Damper for Ford 7.3L "Godzilla" Gas
ATI Part #: 918073
FREE SHIPPING
ATI Super Damper Harmonic Damper for Ford 7.3L "Godzilla" Gas Engine
ATI Performance Products, Inc is proud to introduce its Super Damper for the new Ford 7.3L "Godzilla" engine found in Ford Super Duty trucks, some vans and as a crate motor for your project. This OEM drive diameter damper features a 6", 5-ring inertia weight and retains OEM location and has OEM drive sizes. The damper shell is billet aluminum and the hub is 4140 heat treat steel. Part # 918073, comes with laser-etched timing marks, a single 3/16 keyway, and exceeds SFI 18.1 Safety Certification.
OEM dampers are optimally tuned to a narrow band of "perceived normal driving conditions" and do not perform well outside of those limits. The ATI Super Damper can handle any engine speeds and driving conditions that get thrown at it to better protect your engine. ATI Super Dampers provide balanced dampening of torsional crankshaft vibrations through all RPM ranges especially during competition use.
ATI Performance Products, Inc. is located in Baltimore, MD, and specializes in producing and maintaining high performance products for street and strip applications. Over the years ATI has earned a reputation for its cutting edge technology, attention to detail, and rigorous testing under race conditions.

Diameter: 7.57" (OEM Size)
Ribs: 6 Rib
Weight: 7.75lb
Shell Material: Steel
Hub Material: Steel
Hub Part Number: 916473
---
Additional Products