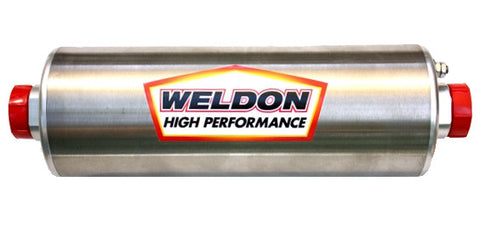 Weldon 1100-A Fuel Pump
This is the preferred fuel pump at MHM for street machines running in-line pumps. This pump is good for 1100hp and flows 135 GPH and up to 95 psi. 
Matt's Notes: I wire these through a relay and power them with 10 gauge wire.  I run them without any fuel pump controller.  They are quiet and don't make heat with adequate return.  Plumb it with a -8AN return line for best results with EFI.  Don't run E-85 or alcohol (methanol) with these pumps.  They're intended for pump gas and standard race fuel only.  You can mount the pump above the cell/tank sump without issues and at any angle, as it is self-priming.  This allows for better clearance than traditional pumps.
Extremely quiet
Precise, consistent fuel delivery
Self-priming
Continuous duty pump with extremely low current draw
All internal pump components are 100% metallic
Housing is made from 304 brushed stainless steel
MIL-SPEC clear anodized billet end caps
For carbureted or injected engines
-10 inlet and outlet o-ring ports
Two stainless steel T-bolt style clamps included with each pump
6.0 lbs
---
Additional Products