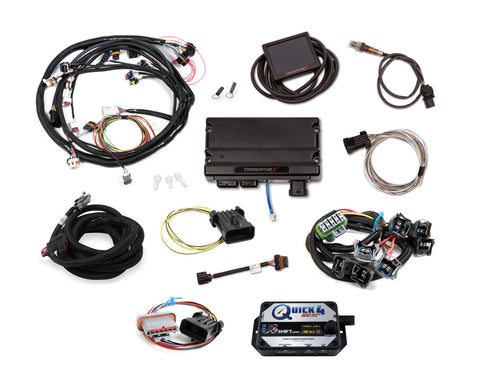 Gen 1 Lightning Holley Terminator X EFI & US Shift Complete Package
From $2,36000

From $2,360.00
---
---
FREE SHIPPING
This is a complete Terminator X system bundled from our most common product sales. With this setup you will not need to purchase any other parts to make your truck run and drive.  This system will work with stock ignition or with aftermarket ignition.  This system will work with or without boost from a supercharger or turbocharger.
There are options to use a dual sync distributor and an aftermarket ignition system not included as part of this standard package.  Please email us regarding options.
Holley Terminator X EFI with 3.5" Touch Screen (Set up for TFI Ford)
US Shift Quick 4 (Generation 2 Module with Custom E4OD Harness)
3-Bar MAP Sensor (For Boosted Applications)
Built-in 1-Bar MAP Sensor (For naturally Aspirated Applications)
Bosch Wideband Oxygen Sensor
Holley EFI TFI Adapter
Holley EFI Input/Output Cable
Genuine Motorcraft TFI Module (Push Start)
Unterminated Remote-Mount TFI Cable 


Because we install and use this very system, we can support you with your installation and your tuning process every step of the way.  Base start-up files are included when the client is ready to start his or her vehicle for the first time. 
Additional tuning support, remote tuning, and dyno tuning available for additional fees.
Note: Please add CAN cable to purchase if you intend to have MHM provide remote tuning support.  This allows for easy laptop file and datalog transfers.  
There is no software license fee or cost to download tuning software for Holley EFI products.
Note: This can only be used with vehicles not  regulated by emissions standards.  We can't control what you do with it, but we can warn you not to break the law! 
---
Additional Products