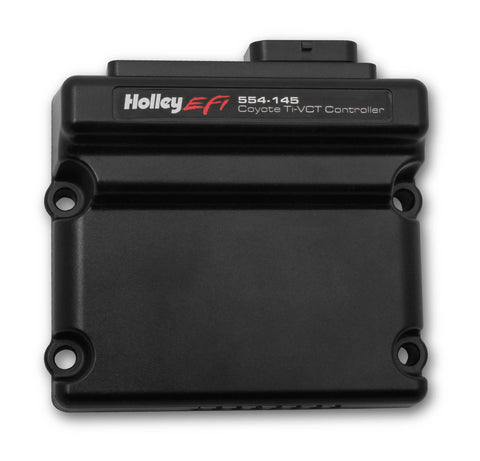 Holley EFI Coyote Ti-VCT Control Module
Holley EFI Part #: 554-145
FREE SHIPPING
Matt's Notes: For use with stock camshafts on 2011-2014 Ford Coyote engines.
Requires the use of Main Power Harness (558-319).
Requires one of the follow Main Engine Harnesses: 558-110 or 558-122. Requires one of the following Ti-VCT Sub Harnesses: 558-124 or 558-125.
Introducing Coyote Twin Independent Variable Cam Timing Control from Holley EFI! Do you have a coyote crate engine going in your dream car? Is your weekend road race warrior powered by a coyote junkyard engine with locked cams? Unlock the full potential of your high revving power plant with the Holley EFI Plug and Play Coyote Ti-VCT Control Module.
Features:
Compatible with HP or Dominator EFI
Gain 90+ Ft. Lbs at 3700RPM vs Locked Cams
Ti-VCT Cam control down to 400 RPM
Designed for Stock Camshaft Profiles
Commanded Timing matched within 1 degree
4 Built in Diagnostic LEDS make diagnostics easy in the event of a cam or crank sensor failure
Integrated Stock Cam Position Tables – eliminate tuning guess work, optimal drive-ability and power right out of the box
Main Harnesses come terminated with Ford TPS and IAC Connectors, making it easy to convert from a DBW Throttle Body to a Manual Throttle Body, if desired
Installation of an external MAP sensor is required, we recommend part number 538-13 for N/A applications
Main Harnesses includes a Power Tap Connector, as a convenient source for power and grounds when adding additional sensors or actuators
CANBus communication between Coyote Ti-VCT and Holley EFI ECU for high speed data transfer and diagnostics
Pre-calibrated Ford sensor drop downs in the Holley EFI Software
Plug and Play Main Harness for 2011-2014 Coyote engines w/ Stock Camshafts using Stock Coils (558-110)
Plug and Play Main Harness for 2011-2014 Coyote engines w/ Stock Camshafts using Holley EFI Coils (558-122)
---
Additional Products